I met my husband 9 years ago. He introduced me to the world of traveling. I had never really left my city that often until we started dating. Now, we try and take road trips and trips on a plane a few times a year with our kids.
I love it so much. I definitely caught the travel bug! I'd love to travel to so many places that we've never been to. I think as the kids get older, we'll start going to new places.
This set of products that I'm about to show you is something good to have during those trips.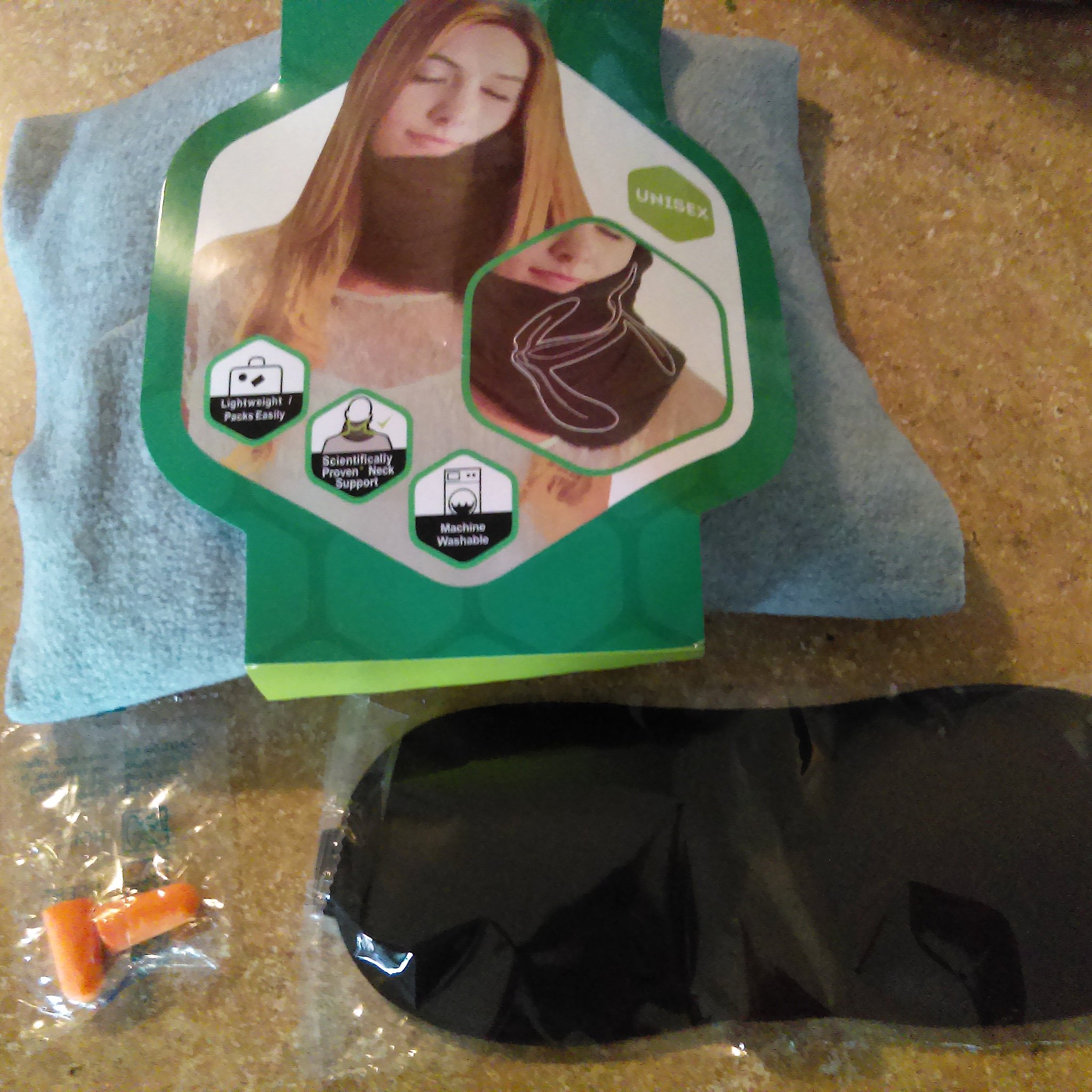 First, let me talk about the very unique neck pillow. It is the grey material in the picture above. When I first saw it wrapped up in its packaging, I wasn't really sure what to expect.
I've used those U-shaped neck pillows and inflatable travel pillows before, but nothing like this.
It's actually really neat, because it wraps around your neck like a scarf. It closes securely with velcro. Inside, there are plastic supports for your neck. No more stiff neck on the plane, train, bus, and car.
Guess what?
The scarf part is machine washable! All you have to do is remove the inner supports before tossing in the washer. The scarf material is really soft, it's warm, and I like the color of it. It keeps your neck comfortably aligned and it's super cozy. So good, especially because it can get cold on those planes, trains, and buses.
Also, as a bonus, they included some ear plugs and a sleep mask in the set. The black sleep mask has an adjustable strap that wraps around the back of your head. The mask is soft as well, and made in a way so that it doesn't rest totally flat against your eyes. It has a bit of a curve around the edges, making it more comfortable against your nose and lashes.
The orange ear plugs are very soft and flexible and kind of mold to your ear shape when you pop them in.
I'm telling you- this is the perfect nap kit!
I'm seriously going to be stashing this into my travel bag for every trip we take in the near and distant future.
I can't wait to use it all as a set.
Oh, and by the way, no, you don't have to only use it when traveling. It's also the type of set that you can use when you need to take a quick nap at your home or office desk, when you're sitting up nursing your baby, when you're sitting in a waiting room or lobby at the hospital, etc.
Bet you didn't think it could be used in so many ways, huh??
You're welcome!!
Watch my full unboxing video review so that you can see each product better
Disclaimer: I received this product in exchange for my unbiased review.