Are you ready for another giveaway? I am! :) This one is perfect for those of you who like Asian style jewelry.
The wonderful people at
The Bead Collection
sent me my very own Mah Jong tile necklace, along with one for me to give to one lucky winner!
Do you play Mah Jong? It has always been one of my all time favorite games since I was really young so I think that these necklaces are awesome. I'm actually a bit of a pro at the game... :)
This is a lovely ivory-colored Mah Jong game piece (approx. 40 mm. long, 25 mm. wide) with the original markings on the back and delicate Asian cranes on the front. The pendant has a loop at the top for a braided silver chain or other artful device.
The pendants are made from recycled acrylic Mah Jong tiles with an Asian theme of cranes on one side and the standard Mah Jong
designs on the back.
I really love the one that I received. The picture is really pretty. I love the image on the back too. They did send me a beaded chain along with it as well. I like the beaded chain that came with but wouldn't mind hanging my pendant from either one of my own silver chains or even on a black leather cord (I have a thing for chokers.) I think a variety of chains/cords would look great with these pendants. I can simply try different ones to match whatever outfit I choose to wear.
A Little Bit About The Bead Collection
Sheila and her daughter Shannon started
Beady Eyed Bird
out of the love of beads and natural gemstones. They want to connect with jewelry designers, artisans and beading enthusiasts who are looking for very special and unique focal beads and pendants.
They founded the company in August, 2012, with a passion for locating and providing the perfect centerpiece for your beading/jewelry designs and creations.
The bead collection is made up of distinctive focal beads, pendants, cabochons and charms. They create or find 'design ready' sets, with signature beads or gemstones ideal for a matched earring/necklace set. They also offer unique necklaces and earrings.
They collect wherever they travel, so they have items unique to various regions and cultures. Their items include birthstones, healing stones and crystals, lampwork art by the most inspired and talented artists, and more. They offer customized searches for clients who appreciate our research services when they are looking for one of those hard-to-find items.
"What I most hope for as we share our bead collection with you is that you find those beads that speak to you and inspire you. My commitment to this project is to search far and wide for those special, unique pieces – those 'one of a kind' beads – that will help you create something beautiful for yourself or others."- Shannon
"The collection seems to have developed a 'healing spirit' of its own, with each bead associated with my special memories or impressions of Malaysia, Africa, India, Australia, and more. We now want to share our treasure trove with you, so you can share the joy of 'signature beads' with us. I hope you find what you're looking for here, or fall in love with something you weren't looking for – a bead that 'finds you' – as so often seems to happen to us."- Sheila
They have so many beautiful types of jewelry available and are adding necklaces/pendants every day.
They don't only have Mah Jong tiles, but also Scrabble tile pendants too. They have images of all kinds- kittens, flowers, bluebirds, crows & Frieda Kahlo.
Many of the colors they use are inspired by the beautiful surroundings and architecture from their city, Santa Fe- the clear blue of the sky, the soft earth tones of the plains, and the clear, silvery water of mountain streams.
They really try to specialize in hard-to-find and gorgeous semiprecious gemstone beads and pendants- especially Lapis Lazulli, Peruvian Opal, and Larimar. They have several really nice specimens in the Etsy shop and some of the Larimar is already made into necklaces.
All are easily strung on silver or ball chain and although they are sold as single pendants, the company will provide the service of adding the chain if anyone would prefer.
If you would like a chain for your pendant, you can contact them via their
website
or
shop
and your item wouldn't cost much more unless you want a high end or high cost chain.
Enter My Free Rafflecopter Below to Win Your Own Pendant (Comes with a FREE beaded chain!)

Your prize will include both the uniquely beautiful acrylic pendant and beaded chain as well (valued at $30).
Winner will be chosen by random.org. Prize is the necklace pictured above. Winner must be 18 or older. No purchase is necessary. Winner will have 48 hours to respond with shipping info or a new winner will be chosen.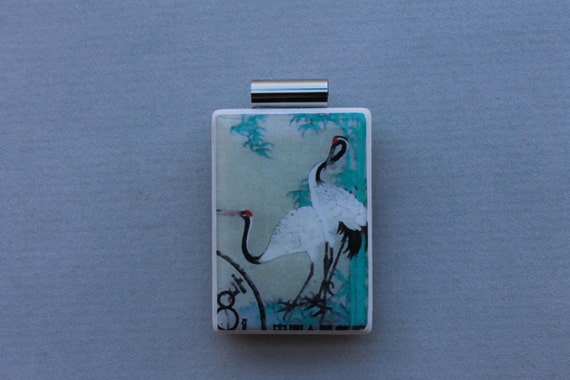 Now, don't worry-if you don't win, you can still purchase this pendant or any of their others available from their
online store
.
Find The Bead Collection on These Social Networks:
**Disclaimer: I received a free product from The Bead Collection in exchange for my honest review and one for my giveaway. All opinions stated are solely my own.**